Recipients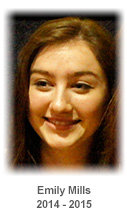 On May 3, 2014, Emily Mills was presented with the 13th annual Karen Minner Scholarship Award at Highland View Academy's alumni weekend. Emily will receive $1000 toward her tuition for the 2014-2015 school year.
Emily is a friendly and welcoming senior at HVA and has been active on campus since she arrived as a freshman. She has participated in many different organizations and events over the last three years, including Drama, Strings, Leadership Class, Photography Club, Post, National Honor Society, 30-Hour Famine, and the weekly Bible Study Group. One of Emily's favorite activities has been the drama class. She has also held many leadership positions for her class and for Girls' Club, and she plans to continue to be heavily involved throughout her senior year, both in her class events and with the Bible Study Group, along with other events like 30-Hour Famine.
Emily went on the mission trip to the R.E.A.C.H. center in Philadelphia last spring and was very inspired by the passion of the college student leaders of that organization. She would love to participate in another mission trip, possibly out of the country. Her interest in serving the Lord is also apparent on campus where she is known for her kindness and sweet smile.
Although Emily does not have specific plans yet for her future, she is planning to attend college and pursue a career probably in the arts, which will tie in nicely with her love of reading and music and drama as well as her keen sense of humor and unique creativity.
Emily's parents are Steven and Jane Mills, of Hagerstown, Maryland, and she has three siblings: Jessica, Andrew, and Rachel. Her father has worked in the publishing business for many years, most recently at the Review and Herald, and her mom is a teacher's assistant at Mt. Aetna Adventist Elementary School and at HVA.
Emily's high academic achievement, leadership and involvement on campus, and her friendly, compassionate nature all make her an excellent choice as this year's scholarship recipient.
---
Previous Scholarship Recipients


Designed by Kianta